Gerard Artesona ~ Integration Therapist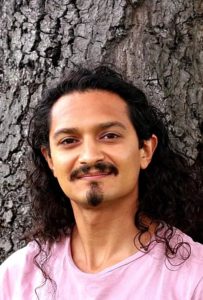 Gerard Artesona is a psychotherapist specializing in integration therapy and counseling with a private practice in Oakland California. His experience serving the mental health needs of patients in hospital settings, alongside his therapeutic approach bridge western psychology and entheogenic rituals & practices to support his clients on their healing journeys.
He has taught yoga and mindfulness practices primarily with transitional age youth and formerly-gang involved inmates. Gerard has embraced the healing potential of plant medicines for over 10 years, and the perspectives surrounding them have come to inform his professional approach and his overall understanding of wellbeing.
Gerard holds a Master's degree in Counseling Psychology from the Institute of Transpersonal Psychology (currently known as Sofia University). He was a 2018 Diversity Fellow for the California Institute of Integral Studies Center for Psychedelic Therapies and Research program. He is a registered RYT 200hr Hatha Yoga Teacher who trained at Piedmont Yoga in Oakland, CA, where he focused on the intersection of self-care & social justice.