For Personal, Community and Planetary Renewal
The simple - yet far reaching, deep - yet utterly practical wisdom, embodied by the rainforest medicine traditions of the upper Amazon have been an integral part of humanity's bio-cultural heritage. These millenary, times-tested 'rainforest medicine traditions' have acted as a source of vitality and inspiration to generations of Indigenous families.  The traditions allow participants to gain a deeper understanding of life and direct their energy to live in harmony with nature. By virtue of the excellent guidance of our most appreciated, respected and beloved Siekopai elders and adept students, the ceremony of yagé, together with healthy food and a natural wilderness environment, connects us to a process of healing and renewal whereby we can achieve transformation. By means of a continual process of surrender, we may finally free ourselves from long-held traumas, grief, and illness whilst supported by spiritual nourishment of self-love and compassion. We inspire participants to see their individual vitality and their need to awaken to a universal culture of service. In all regards, when upheld according to traditional standards, the ceremony of yagé is a great ally of personal, community and planetary renewal. These Rainforest Medicine Gatherings are an opportunity for people the world over to experience just that! It is a great joy for us to provide this experiential opportunity for people the world over.
Join us in one of the most biologically-diverse regions on the planet where together we awaken ourselves to our divine nature and celebrate our synergistic connection with the natural world.
Our Next Rainforest Medicine Gathering
Join us April 15-25 for an experience connecting to an ancient healing tradition from the Ecuadorian Amazon. This 10 day retreat is conducted in accordance with the spiritual tradition of "God's Multicolored People" the Siekopai.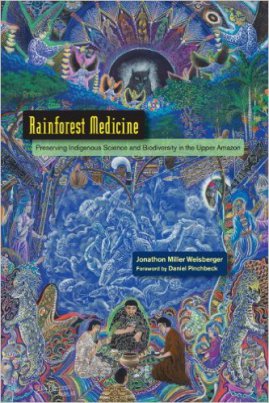 Rainforest Medicine: 
Preserving Indigenous Science and Biodiversity in the Upper Amazon
Chronicling the practices, legends, and wisdom of the vanishing traditions of the upper Amazon, this book reveals the area's indigenous peoples' approach to living in harmony with the natural world. Rainforest Medicine features in-depth essays on plant-based medicine and indigenous science from four distinct Amazonian societies: deep forest and urban, lowland rainforest and mountain.