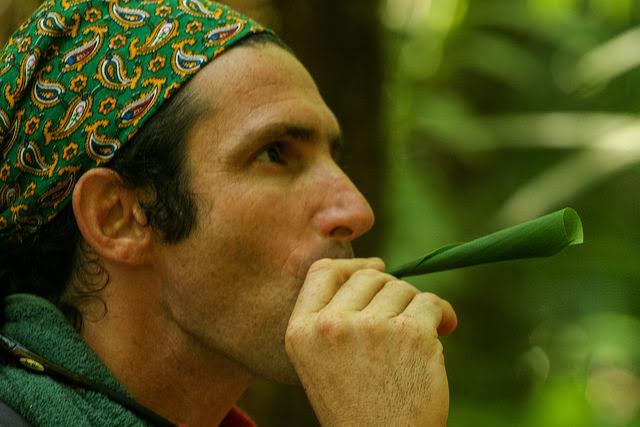 With a rolled up leaf, Jonathon is calling toucans from the tree tops, Waorani style.
About your intrepid rainforest guide,
Jonathon Miller Weisberger
Jonathon is the founder and steward of Ocean Forest Ecolodge. Sparrow, as his friends affectionately call him, was born in Berkeley California but raised from a very young age in the country of Ecuador.
Although he likes to consider himself a professional beach bum, in truth he is an insatiable scholar, knowledgeable ethnobotanist and intrepid rainforest guide. For over 15 years, he has been leading avid adventurers into remote regions of Ecuador, Peru and Costa Rica to rediscover Nature's beauty and intelligence.
An enthusiastic storyteller, Jonathon colorfully weaves together his extensive knowledge of Nature's medicine with the ancestral wisdom passed on to him by the indigenous peoples who have inhabited the rainforest for millennia. For over 10 years (1990-2000) he lived and collaborated with 5 distinct indigenous tribes in the Upper Amazon. His understanding of the way of life and cosmology of these endangered cultures is as important to him as the plants he works with. Hee is dedicated to helping to preserve their holistic world-view, encouraging us to live in harmony with the natural world.
Through his conservation work, Jonathon has collected over 2500 specimens deposited in several herbariums in Ecuador and Peru. He has also initiated, overseen and collaborated on several projects including; the creation of biological reserves; the de-colonization and the demarcation of indigenous territories; the creation of buffer zones around national parks; reclamation of ancestral lands; and, cultural heritage revival initiatives. He has been influential in saving tens of thousands of hectares of rainforest lands, primarily in Ecuador, on behalf of the projects. He is co-author of two ethnobotanical, bi-lingual educational books dedicated to indigenous youth in Amazonian Ecuador. He is the distinguished author of 'Rainforest Medicine: Preserving Indigenous Science and Biodiversity in the Upper Amazon' and has published several articles in Spanish and English.
Since 2000 he has been living 9 months a year in Costa Rica's Osa Peninsula, overseeing the continued development of Ocean Forest Ecolodge. He is more than our "jefe" he is also Ocean Forest's principal rainforest guide, plant master, storyteller and much more!
He also practices and teaches: Tui Na massage, Foot reflexology, Tai Chi and Dao In (Taoist exercises for health), I Ching study, Herbology and is Ocean Forest's on site Surf Instructor.
Praise for Jonathon's work
"[C]ourageous and innovative work. [He is] working to preserve ancient botanical wisdom, not on some dusty bookshelf, but in the hearts of indigenous youths and in the forest itself. This is a bold and crucial step in these times. 
—Robert Hass, former United States poet laureate
 "Presided over by a most benevolent array of plant energies and animal intelligences, leafing and leaping spirits ... like a dark heart of the wave on the sloping strand in wilderness and wonder."
—David Abram, author of The Spell of the Sensuous
"Jonathon Miller Weisberger—a 'young Schultes'—is a master with the plants... He helps you listen to their myriad voices, each a wise voice singing a different part in Nature's chorus."
—Bill Pfeiffer, Sacred Earth Network